STEP-BY-STEP VIDEO TRAINING TO BUILD YOUR OWN MEMBERSHIP BUSINESS
Expert Training With No Technical Knowledge Needed
"I have to tell you. This is the BEST, most amazing freakin' course I've ever seen on how to do this. I've been struggling with this for months and you explain it so well and make it look so easy it's unbelievable. Thank you. Standing ovation for sure!"
- R. Santarossa
It's time to stop HOARDING that PLR content on your computer and finally MONETIZE IT with your very own membership e-commerce site
Your PLR membership provides you with access to incredible content, but selling e-books through one-off sales can lead to unpredictable income. Building a membership site that you have full control over, complete with e-commerce functionality and a shopping cart, will allow you not only to sell single purchase products, but also gives you the ability to have members join on a recurring monthly basis to access your products and content.
If you ever considered building your own membership site, now is the best time to start one! This is the perfect course for you to explore the WooCommerce e-commerce system, membership and subscriptions plugins, and get a full understanding of their functionality.
Comprehensive Step-By-Step Training From Start To Finish
Shortcut the complicated stuff. Avoid costly mistakes and stress!
This master class training will take you through the process of setting up a membership site using WordPress and WooCommerce. We'll be using a mixture of free and paid plugins that will set you up with a solid foundation that is flexible, customizable, and robust with industry-standard e-commerce functionality.
The training includes over 7 hours of quality video content, including over the shoulder style videos that allow you to see me doing the actions – not just talk about them. I also include checklists and code snippets for WooCommerce customizations that we go through to make your site's checkout purchase experience streamlined for a membership product.
If you're completely new to website setup, I got your back. In the Platforms module there is a lesson where I walk you through all of the base setup steps so nothing is left to guessing. From choosing a site name, finding hosting, and setting up WordPress. However, the focus of this training is on membership setup. There are a lot of features in WordPress and plenty of training out there on how to use it, so I only touch on the basics and don't go too in-depth into WordPress core features training. If you are brand new to WordPress... I am excited for you! You're going to be amazed at what you can build with it and how easy it is to use.
Other services are also covered in this training. I'll be showing you how to host files with Amazon AWS (S3), as well as accept credit card payments with both PayPal and Stripe, various tools for content syndication, setting up social media and advertising on Facebook.
Who is this master class for?
Individuals with a library of PLR content that is waiting to be monetized but not sure how to set up a site to do so
PLR content owners wanting to create a WordPress membership site, but are not sure how to properly set things up
Individuals or businesses wanting to add value to their websites with a membership layer
Individuals looking for a recurring monthly revenue stream
Individuals looking for ways to syndicate their content to bring in organic traffic
Individuals curious about Facebook Ads and how to use them to market their site content
What are the requirements?
You will need to buy a domain name and WordPress hosting for your membership site (I go through various recommended web hosting options in the training)
PayPal and/or Stripe account (FREE)
Have content to use in your membership site
The willingness to invest the time it takes to build out a membership site (which will be much faster now that you have the shortcut with this video training!)
OPTIONAL: This course can be used with any membership platform for WordPress. However, in Module 03 there is a video showing a full site setup walk-through and I use WooCommerce - which is the system I recommend for e-commerce. We use the WooCommerce Membership Plugin and WooCommerce Subscriptions Plugin in this demo. The plugin files are not included with the course, however I do mention a resource you can use to download these premium plugins for FREE.
OPTIONAL: If you are looking to secure your Amazon S3 files from hotlinking, the WooCommerce Amazon S3 Storage plugin is mentioned in this training. The plugin is not included, but can be purchased separately ($29).
MEET YOUR TRAINING MENTOR

Hi there! I'm Chad.
Thanks for checking out this training program! I am excited to help you in your journey to building your own membership-based business and set up a recurring income stream for yourself.
A bit about me... I am a design and marketing expert with over 15 years of experience in the industry, having worked with hundreds of clients worldwide from small business to fortune 500 brands through my digital marketing firm Fullerton Media Inc. I provide products and training to help aspiring freelancers and entrepreneurs start and grow their own businesses. My training style is honest, "no fluff", and beginner-friendly as I take you through everything step-by-step, while avoiding technical jargon and keeping the training upbeat. This isn't your typical snooze-fest technical training. Building a business, and learning new skills should be fun and exciting! As always, I stand behind my products and services 100% and make myself available for support and any questions you might have throughout the course. I read and respond personally to each and every email from my customers, and offer a satisfaction guarantee to provide a full refund if this training doesn't help you get closer to achieving your goals and help you grow your business. See you in the program!

MODULE 01 - INTRO & FIRST STEPS
The first module walks you through an overview of the course and what you will learn, as well as reviews different types of membership site models you can use.
What is a membership site
Overview of what you'll be building
Why Build A Membership Site And Not Just A Blog?
The Honest Truth
How membership sites work and the underlying technology
Choosing A Profitable Site Niche
Defining Your Target Audience
The 6 Best Membership Models
Types of Membership Delivery Methods
Crafting Your Unique Value Proposition (UVP)
Naming Your Membership Site
WORKSHEET: Your Target Customer
MODULE 02 - YOUR CORE MEMBERSHIP
This comprehensive module covers all of the planning stages to a great membership site.
The important details to think about when planning your membership
How Often To Add Content
"Drip Feeding" Content
Offering Unprotected Content
Building a Relationship
12 Best Practices & Pro Tips
Converting An Existing Site Into a Membership Site
Pricing Strategies & Factors To Consider
Special Promotional Offer Ideas
Adding Different Levels of Membership
MODULE 03 - SITE SETUP & TECH
This module includes multiple videos walking you through how to set up your WordPress site and add a membership layer to your site. It starts with an overview of membership platform options and plugins (including free options). There is also a deep-dive into the advantages of WooCommerce and how to set it up to add an e-commerce store to your site.
Your Site Structure
WordPress: Your Site's Backbone
Choosing Your Membership Plugin
The Top Membership Plugins
How They Work - Understanding The Layers Of Tech
The User Flow
Web hosting options, comparisons between types of hosting
Cloud file hosting options for hosting e-books and other product files
Video hosting options if you plan to include video training on your site
The easiest way to setup security for your WordPress site to prevent attacks and alert you if your site is hacked
How to install, setup, and use an SEO plugin on your site to ensure your content is SEO optimized
Cloudflare and using a Content Distribution Network system so your site loads super fast
Setting up a FREE SSL certificate so your e-commerce site is secure and protected, with an HTTPS address and green lock in the address bar
An overview of membership platforms including free and paid platforms you can use with WordPress depending on your membership site needs
4 Reasons To Choose WooCommerce
A deep dive into WooCommerce, it's advantages and e-commerce features. This includes over-the-shoulder videos showing how to set up WooCommerce, WooCommerce Memberships, WooCommerce Subscriptions, creating a membership product, streamlining the checkout experience, one-click checkout buttons, custom thank you pages and upsells, e-mail integration.
BONUS: Base Site Setup Checklist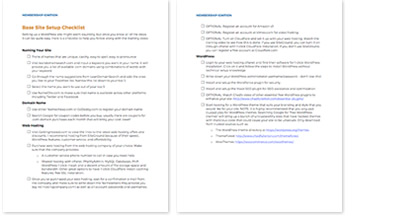 MODULE 04 - PAYMENTS
Time for the most important part... setting up your payment system so you can make money!
An overview of payment systems and their fees
PayPal and it's advantages and disadvantages
Setting up a PayPal account
A introduction to Stripe and how to set up an account
Configuring PayPal and Stripe in WooCommerce
Running test payments
MODULE 05 - CONTENT
A membership site isn't worth anything without quality content to provide your members with value. In this module I share my systems and processes for quickly loading up your site with content and having content publish to your site automatically on a consistent basis.
Formats For Your Site Content
14 Content Ideas
Sourcing Your Content
Repurposing Existing Content
Building Trust With Freebies
Where to find great content
How to schedule content so you can "set it and forget it"
How to build out a content calendar to stay organized
How to SEO optimize your content for search engines, especially if you have free content that can generate organic traffic to your site
Over-the-shoulder Video Showing How To Setup An Example Site With PLR Content
Over-the-shoulder demonstration of how to set up an e-book for sale in WooCommerce
Over-the-shoulder demonstration of how to set up Amazon S3 for secure file delivery
Tools for coming up with great headlines
Tools for finding topics that your members will be craving
Demonstration: Create Your Own eBook PDF Product
MODULE 06 - CUSTOMER SUPPORT
Customer support is critical to any business collecting payments from customers. We'll be looking at various ways to handle customer service and set up a support ticket system so you can easily stay on top of pre-sales questions and support requests from your members.
Keeping Members Happy
Ways to handle customer service requests
How to set up a support ticket system
Demonstration: Setting Up Freshdesk
Demonstration: Setting Up HelpScout
How to set up a chat system on your site for pre-sales questions
How to Prevent Members Leaving
MODULE 07 - MARKETING YOUR MEMBERSHIP
Now we start to get into the more advanced modules. Once you have content on your site, how can you get it out onto social media and other channels so that people find it easily and you can capitalize on organic traffic? We also explore paid and free marketing strategies.
An Important Glossary Of Terms To Know For Advertising
7 Marketing Methods
Creating Your Sales Page
Onboarding New Members
Mistakes To Avoid
How to set up automation tools for content syndication
How to have content automatically post to a Facebook Page
How to have content automatically tweeted to your Twitter account
How to drip feed content to social media at optimal times where it will get the highest reach and best click-thru rate
How to re-post evergreen content automatically weeks or months after it has been posted on your site
Overview of the Facebook Ad platform
How to set up ad campaigns in the Power Editor rather than boosting posts
Tips for maximizing your budget and maximizing your ad spend
BONUS: Facebook Ads Checklist